Submitting Art
Email your art in an attachment / Google Drive / Dropbox link to Ryan@anxiousandangry.com. We prefer that you have the art adjusted to the actual size you want the print to be and following the preferences below but don't worry we can tweak your designs a bit if you like.
You don't have art? You just have the idea of the century? We can work with you to help your dreams come true. While we are by no means graphic artists, we know the basics. Just ask! We don't bite (hard).
Art Preferences
Maximum of 6 colors
Recommended file types: .ai, .eps, .pdf, .svg, .psd*
Multiple colors are separated into layers
Recommended resolution 300 dpi
The maximum size for shirt and hoodie designs is 12" X 14.5
*Files with extensions .jpg, .tif, .gif, .psd and .bmp may contain "raster" vs "vector" images and may require artwork recreation/adjustments in order to ensure the clean edges required for screen printing
In shop artwork will cost $35 per hour. The shop will help you understand the issues of your artwork and give you an estimated hours before any work is started.
Screen Printing Art Basics
Screen printing uses custom "stencils" made with mesh screens, where ink passes through where it is not blocked. Each color printed will require a separate screen (stencil) so clean separation between colors is critical.
Common Image Issues
Images that should have crisp edges but are "fuzzy" require complete artwork recreation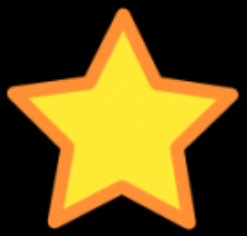 This image appears to have crisp edges but "raster" files produce blending.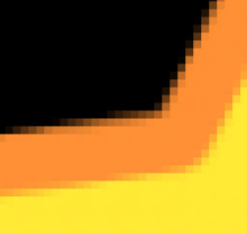 When zoomed in there is haze that requires artwork adjustments to create the clean edges needed for printing.